What is Salsa?
Founded in 2003, Salsa empowers nonprofit organizations by providing a suite of sophisticated web-based products for fundraising, online advocacy, and digital marketing. Their products include tools to create multi-channel campaigns that drive user engagement, form builders to design and deploy custom donation pages and fundraising communications, and integrations to manage social media messaging.
Thousands of nonprofits around the world are using Salsa to drive their fundraising and advocacy campaigns.
Engagement
Salsa Engage is their core platform for nonprofit fundraising, multi-channel advocacy, and online marketing. It enables automated, personalized interactions with donors and supporters.
Fundraising
Salsa provides online form building tools and templates to create engaging donation forms with built-in, secure credit card payment processing. Salsa also supports peer-to-peer fundraising with tools for event management, customized team pages, coaching, and targeted fundraiser communications.
Advocacy
Salsa supports advocacy campaigns with online petitions and targeted actions. Federal, state, and local legislator contact lists are provided. There are tools for building customized, non-legislator target lists too.
Marketing
Salsa has a visual email designer and templates to build engaging email messages. Email blasts can contain a single message or be part of an automated series of messages. Salsa also has social media management tools that provide a hub to organize messaging across all major social media platforms.
Supporter Management
Typically, organizations use customer relationship management (CRM) software to facilitate interactions between the company and its customers. In the case of nonprofits, the CRM software is used to manage interactions between the nonprofit and its donors and supporters. Fundraising and marketing channels funnel data into the CRM, which can inform and focus development team efforts through updated donor profiles.
Salsa provides their own CRM product, called Salsa CRM. Salsa Engage can be coupled with Salsa CRM or integrated with Salesforce, a commonly used alternative to Salsa CRM.
Examples
These are a few examples of how Mouko built Salsa services into client web sites.
Sign-up Widget
We created custom Salsa sign-up widgets for multiple web sites. The widgets are added to pages throughout the site and provide a fast and easy way for visitors to sign-up for newsletters, request informational emails, and make donations.

Donation Forms
We created donation forms using Salsa's form-building tools and embedded those forms on web site pages. Embedding is a quick and secure way to add donation forms to a web site and is easy for site authors to update and maintain.
Action Forms
Actions are advocacy messages and petitions sent to target lists of local, state, or federal legislators that are either preset or derived from the supporter's zip code. We created and embedded action forms on web sites and built a custom Drupal module that automatically displays a summary and link to an organization's active actions.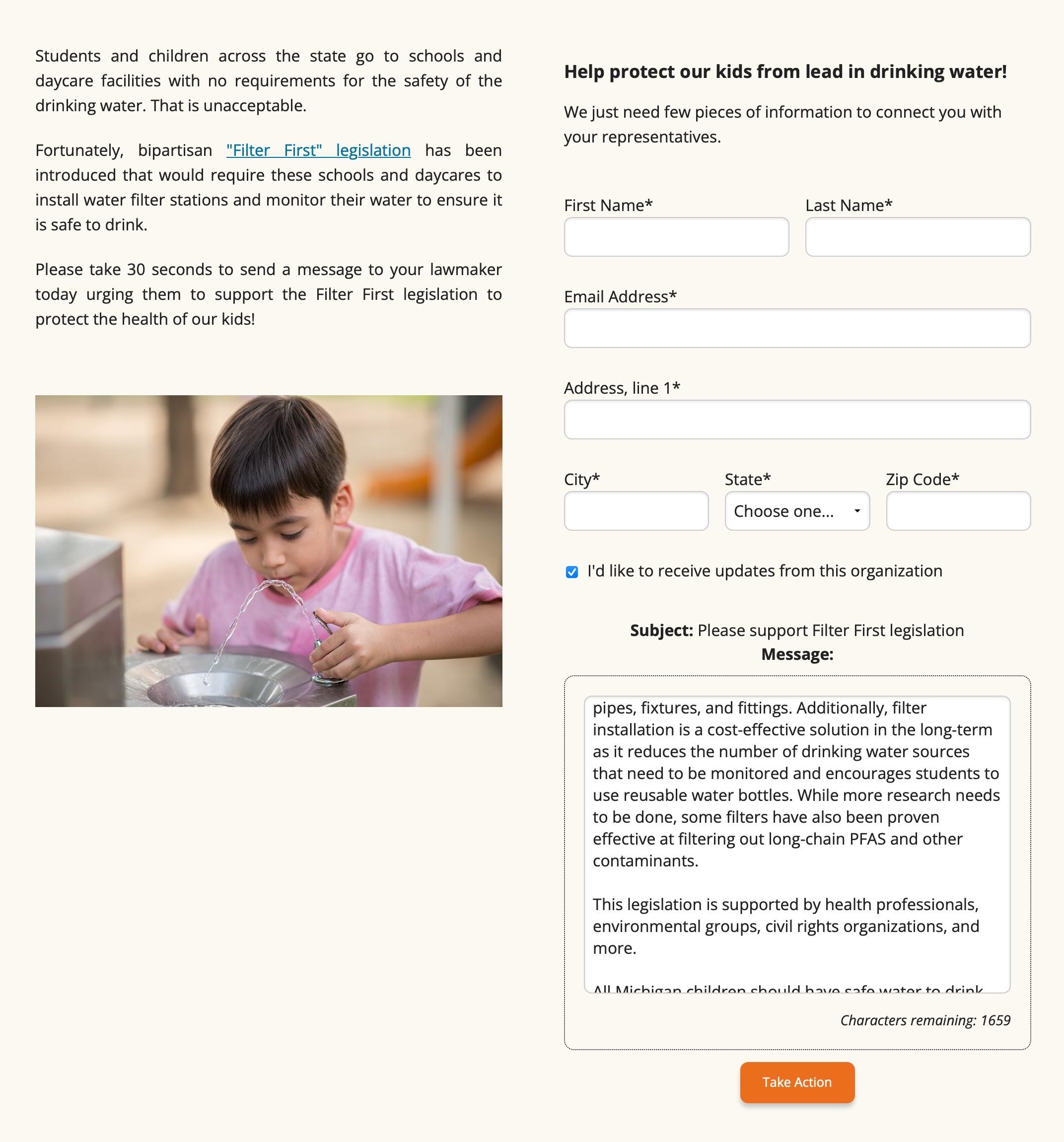 Success
The Salsa platform provides easy-to-use tools for our nonprofit clients to engage and communicate with their supporters and donors. We've worked closely with them to integrate these Salsa products into their fundraising and advocacy workflows and have helped them maximize the benefits of using Salsa.