One of the most important considerations when choosing a team to help you build your web presence is whether or not they make recommendations based on what you need, or whether they try to push you toward what is convenient for them?
For many years, Girls Group used a content management system (web site software) called Drupal, and in 2021, it was time for a website make-over. We spoke with Girls Group staff and leadership at length about what they needed out of their new website. What was or was not working?
As is often the case, a modern look and feel was important. The Girls Group mission should be front and center, a new timeline feature was needed, and a few other things. It was vitally important, however, that the site be easy to use for content authors.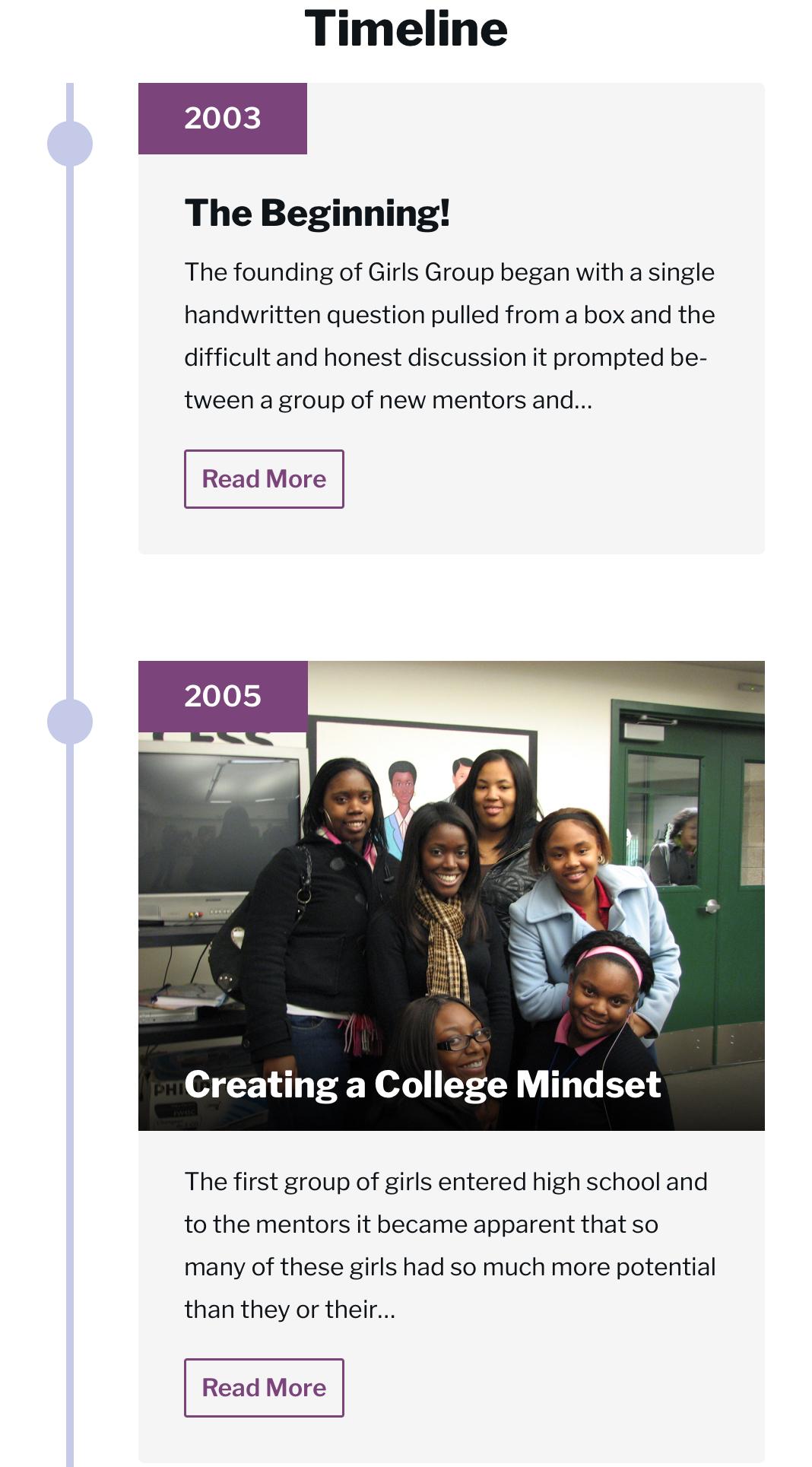 Weighing the Choices
We are big fans of Drupal, and have been for many years. When we first began working with Girls Group over a decade ago, Drupal was a great choice. It was and is a powerful tool with incredible flexibility. But needs and technology evolve; was it still the right fit? What about other systems, like Joomla or WordPress? How about cloud-based systems like Squarespace or Wix?
When choosing a platform upon which to build your website, it is important to weigh a number of factors. Budget is an important consideration, but there are several more technical considerations as well. Here are a few:
How much do you need customized, and are you okay with your site looking like dozens, hundreds, or thousands of other websites?
How user-friendly is the chosen platform "out of the box?" Ideally, you want a system that is easy to use from day one.
How secure is the platform, and how often are security updates released? It is important that software receive regular updates to discourage hackers.
Is there a large community of users for that platform, and a lot of active development? Software with a large community of users means constant improvement.
How easily can the platform be extended using modules or plugins, ideally for free?
What is the effort (i.e. cost) to switch from one platform to another?
If a site must be customized, maybe because you have a very specific or unique feature, or expect a very particular appearance/theme to your site, then options like Wix or Squarespace probably aren't the best choice. These platforms are excellent low-barrier products for small organizations, but their popularity owes to the quality of their attractive "canned" themes and their ease of use, not their ability to cater to unique needs.
On the other end of the spectrum, systems like Drupal or Joomla are very customizable. These platforms are very versatile and allow software developers to give customers exactly what they need, usually with a large price tag. In addition to money, what is often sacrificed for that flexibility is a user friendly experience for content authors.
Based on the priority Girls Group had placed on their staff being able to maintain content easily and in a user-friendly way, the solution we recommended was WordPress. WordPress's content editor, called Gutenberg, is very user-friendly to use, but the platform is also very extensible and can be customized to meet most needs.
We added the timeline feature Girls Group wanted by creating a custom plugin, and we created a "Story" feature profiling members and graduates. Girls Group staff told us that often, the pictures they have to work with were not high quality, so our plugin works with both large and small images, and the layout can be changed accordingly.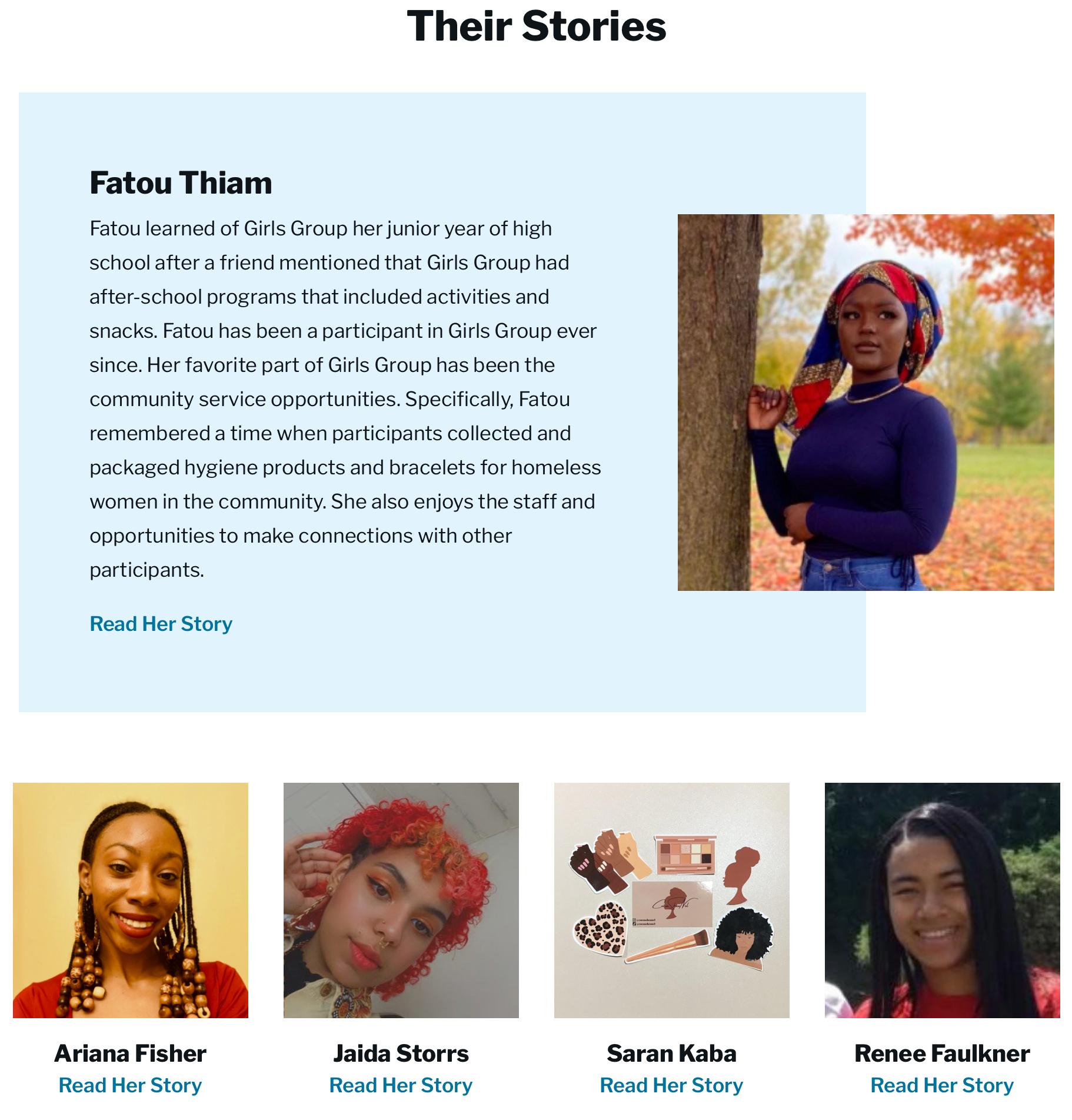 The Results
The new WordPress-based Girls Group website is now live, maintained almost exclusively by Girls Group staff. Word has it, they are very happy with the results.