Introduction
So you want to start accepting online donations, but you don't know how? We understand! That's why we've created this guide on using the Give Lively platform for nonprofits.
Give Lively is a software company founded by philanthropists, and officially launched in 2015. They created a platform to help nonprofits accept donations online, manage their donors, and track their fundraising – and they provide these services for free!
Give Lively makes it easy for you to set up donation pages on your website, where donors can make one-time or recurring gifts using their bank account, credit card, or via PayPal. There are also donor options to dedicate the gift either "in honor of" or "in memory of," and an option to add the payment processing fee to the donation so you receive the full amount donated. You can run fundraising campaigns with your supporters, embed donation widgets on your website, accept donations via text, leverage peer-to-peer fundraising, and promote team fundraising.
Give Lively is serious about data privacy and security. Along with their payment processors, Stripe and PayPal, Give Lively is PCI Level 1 compliant – they protect payment information by adhering to PCI DSS, a global security standard for data protection. They also follow industry best practices for security, like end-to-end encryption and hosting secure web pages.
The Give Lively administrative dashboard allows you to create a nonprofit profile using your logo, images, stories, and messages. You can check out quick statistics on the number of donations you've received, how much money has been raised, and list your recent campaign pages and peer-to-peer fundraising pages. You can also export your data from the dashboard to a spreadsheet.
Membership
Before you can start accepting donations from Give Lively, you need to be registered as a 501(c)(3) organization with the IRS by filling out and returning IRS Form 1023. You can also contact your state's office of charities or attorney general's office to ask if there are other requirements to be considered a nonprofit in their jurisdiction.
Plan Ahead
To use the Give Lively platform, you must apply for Give Lively membership. Before beginning the 4-step application process, it's helpful to have these items on-hand:
Your 501(c)(3) EIN
A GuideStar profile for your nonprofit
A Stripe account for your organization that you can access
Consider your timeframe. After completing the application and connecting to your Stripe account, Give Lively will take 7-10 business days to review your application, although it's possible to expedite this if necessary.
Applying for Give Lively Membership
You apply for membership to Give Lively by using their Online Form.
4-Step Application Process
Step 1 is to provide donor account details (if you've donated using Give Lively) and your 501(c)(3) nonprofit EIN. Give Lively will use this information to find and confirm your profile within GuideStar's directory of charities and nonprofit organizations.
Step 2 is to enter your contact information such as your role within the organization, your work phone number, and email address. Give Lively will use this information to contact you during the application process and to setup your admin account on the Give Lively portal. You can add more admin users after your application is approved.
Step 3 is to provide information about your nonprofit organization, including your fundraising goals for the year, the Give Lively services you'd like to use, and how you heard about the Give Lively platform.
Step 4 is to connect your organization's Stripe account to Give Lively. Stripe securely processes your donor payments and transfers those donations to your designated bank account.
Payment Processing
Give Lively uses Stripe for payment processing but there is also an available integration with PayPal for one-time donations. While Give Lively doesn't charge a fee for using its platform, be aware that the payment processors do. This is typically a fixed fee plus a percentage for each transaction, but both Stripe and PayPal offer a discounted fee for nonprofit organizations.
Stripe
Stripe is a great payment processing service for nonprofit donations. It allows you to accept credit card payments from any country and provides built-in fraud protection. Stripe will block payments deemed suspicious by their policies, but you can also manually identify suspicious activity on the Dashboard tab in your account. Stripe also has a global blacklist of known fraudulent transactions that have been confirmed by other businesses through the Stripe network or manually added by their team and will automatically decline these. More sophisticated anti-fraud tools, such as Radar, are available for an additional fee per transaction.
PayPal
PayPal integration can be set up in the Give Lively portal's Organization Settings page. Click on the "Integrations" button and then the "Begin PayPal Integration" button. Login to your PayPal account to authorize transactions, then click on the link to return to Give Lively. Once the integration is complete, you can accept one-time donations through PayPal.
Success
And that's it! Now you're ready to start your fundraising journey using Give Lively.
The following screenshots show how we used the Give Lively platform to enable online donations for Girls Group, a nonprofit organization we've been working with for many years.
First, we embedded the Give Lively donation widget on their "Donate Now" and "Ways to Give" pages. The widget supports one-time or monthly donations and has both preset donation amounts and a text field for the donor to enter any amount they choose. There is also a button to dedicate the gift in someone's name.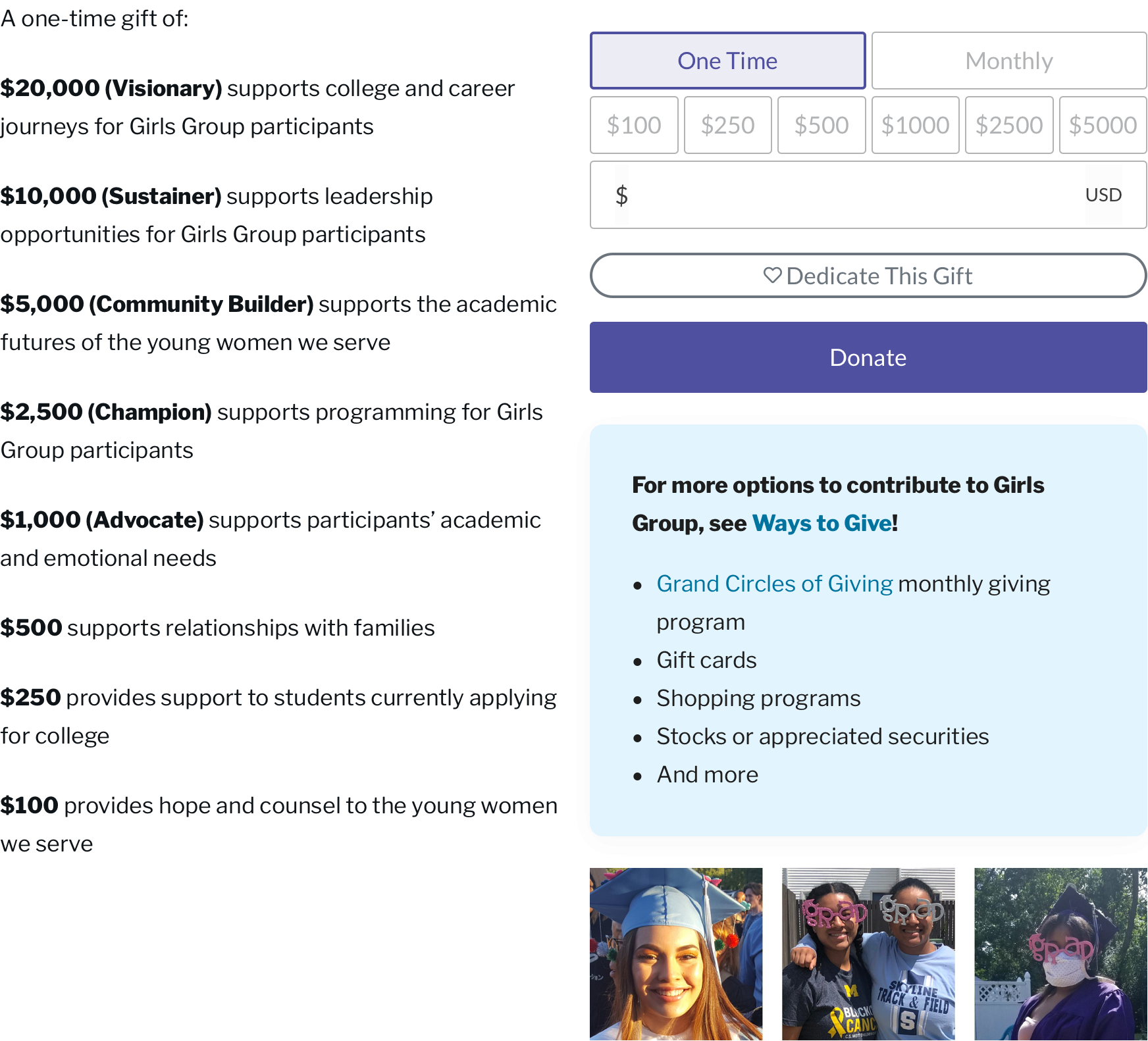 We also created a branded Girls Group donation landing page hosted by Give Lively with information about the organization, an image, buttons to select the frequency of donation, and a set of donation stories and amounts that a supporter can use to choose their donation level. There is also a button for the donor to begin their own peer-to-peer fundraising.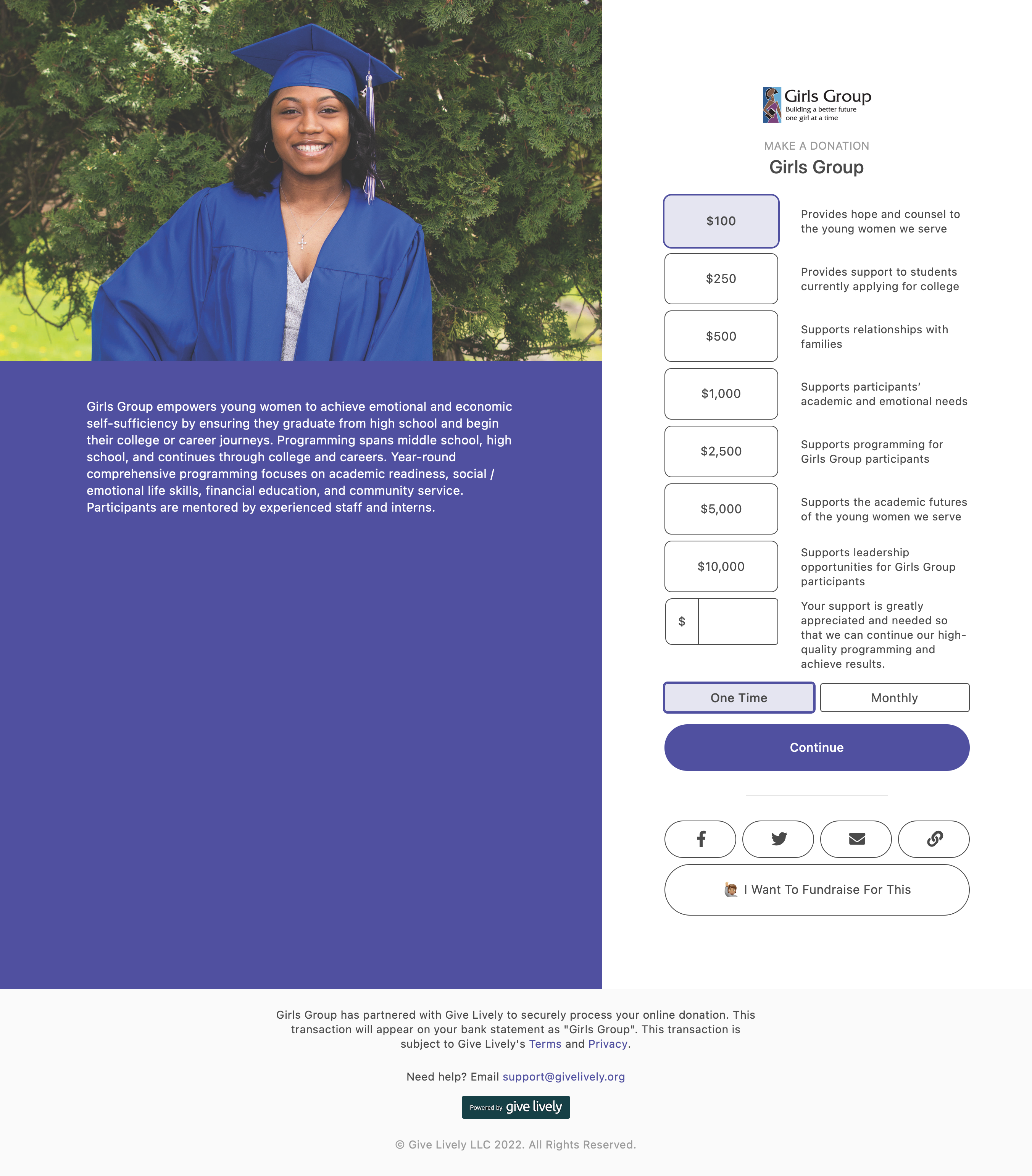 Using the Give Lively platform made it simple to support online donations for Girls Group. Give Lively provides a core set of features to enable fundraising – and their services are free! If you're a nonprofit group that wants to accept online donations with an easy-to-use, secure, and well-supported platform, we suggest taking a close look at Give Lively.